An Evening with Saint Nicholas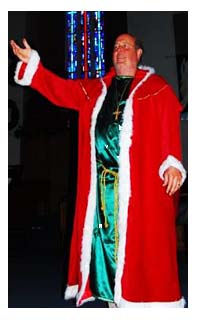 St. Nicholas Day Night
Tuesday, December 6, 2011
7:00pm in the Sanctuary

Join us this evening to hear from the venerable ol' man himself, Saint Nicholas. Saint Nicholas, Bishop of Myra, will personally share his story, from his birth and childhood in Patara, through his days as a leader of the Church, to the legends and stories that have built up around him. And, he'll share some of his thoughts regarding today's American amalgam we call Santa Claus.

For St. Nicholas, it's all about sharing God's love.

Bring your friends!

A freewill offering will be taken.

Saint Nicholas will be portrayed by Jamie Foster. Details.

Childcare will be provided for Kindergarten through 3rd grade, and nursery care will be provided for those younger. Please RSVP for childcare or nursery care by Friday, December 2, 2011 at Noon. Call the church office: 481-2692.

Here's a good selection of resources: DMOZ Open Source Directory: Saint Nicholas.

If you're interested in one book, Jamie suggests: The True Saint Nicholas by Bill Bennett.