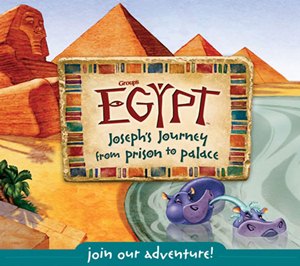 Vacation
Bible
School
Joseph's Journey
from Prison to Palace

July 19-23, 2010
5:30pm Dinner (included)
6pm-8pm Egypt

PDF of photos (extracted from the August 2010 Castanet church newsletter).
Egypt:
Spend a While on the Nile

Would you like to:

Visit an Egyptian prison?
Spend a week on the Nile?
See Pharaoh's Palace?
Shop in the Marketplace?
Make ancient tools and jewelry?
Eat exotic foods: Pyramid Pizza, Tut Tacos, Bastet Burgers, and Phaorah's Phries?

Reservations in Criswell Hall after services, or call the church office (481-2692).

Families step back in time at Egypt, exploring the life of Joseph. Kids and adults participate in a memorable Bible-times marketplace, sing catchy songs, play teamwork-building games, dig into Egyptian eats, visit Joseph in prison and then in his palace home, and collect Bible Memory Makers to remind them of God's Word. Plus, everyone learns to look for evidence of God all around them through something called God Sightings. Each day concludes at Celebration-a time of upbeat worship that gets everyone involved.

Kids and adults at Egypt will join nearly a million participants blanketing Africa with God's love through a hands-on mission project in association with an organization called Operation Kid-to-Kid. With Operation Kid-to-Kid, families will create soft blankets that will be sent to orphans and vulnerable children.

Registration is $15 per child/family member (this will include dinner at 5:30 PM). We are so excited for you to join us July 19-23 from 6pm to 8pm in Criswell Hall!

DONATIONS are always welcome, and needed!
Please note "VBS EGYPT" with your contribution.

More info: http://egypt.group.com/
Leadership Roles Available
A Vacation Bible School leadership role is a unique way to nurture our children in God's love and grow our own faith in the process. We need ALL ages to be Egyptian Family "tour guides" — quirky teens and experienced seniors are NEEDED to make this a success! You are never too young or too old to spread the Word of God. Whether you can commit to one day - or all five - there is a place for you! Contact the church office (481-2692).