Arroyo Grande Harvest Festival
September 25-26, 2009
Youth Handing Out "Living Water"
The First United Methodist Church of Arroyo Grande concluded their year long anniversary celebration on 09/20/09 with a charter Sunday service remembering their 125 years as a church in Arroyo Grande. Pictured with our youth and our wall of Living Water are Bishop Mary Ann Swenson; District Superintendent Reverend Catie Coots of the California Pacfic Conference; and David Burgeson, pastor of the church. The Youth will again be passing out free Living Water at the Harvest Festival. They have collected 2500 bottles through generous donations of church members. Look for us on the parade route or come visit us at our booth.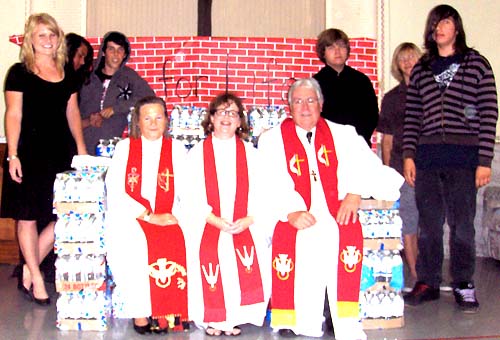 Left: Caitlin Herber, Adrian Parades, Jed Moore. Seated: Bishop Mary Ann Swenson, District Superintendent Rev Catie Coots, Pastor David Burgeson. Right: Jordan Henderson, Gabe Prestemon, and Devin Parades.

And from the event itself...